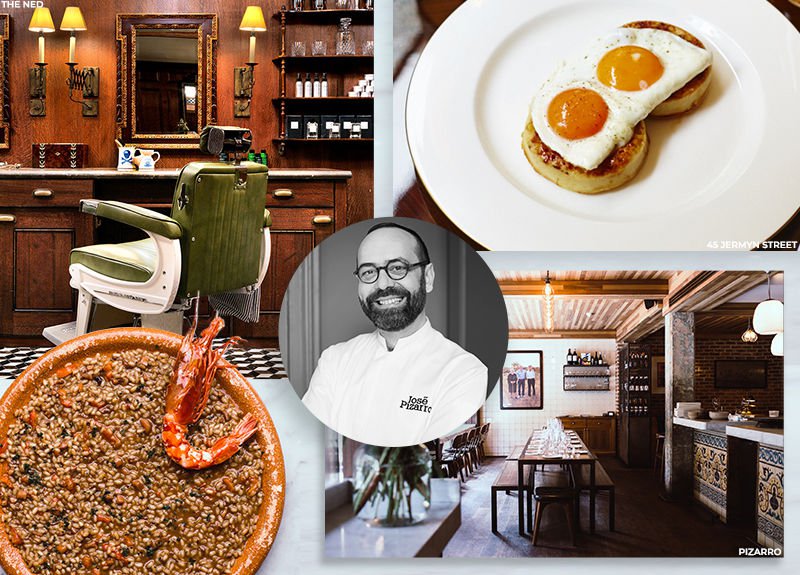 My favourite street in London is Jermyn Street. Fashion is an abiding pleasure and, in the same way we source the best possible ingredients for my restaurants, I love the way the great tailors source wonderful fabrics to create such desirable clothes. 45 Jermyn Street is a haven of glamour, style, welcoming service and just wonderful food. I love it and always leave feeling better than when I arrived.

It's not often I get the time to go to a pub. But my great desire ever since I arrived in England was to own one and I achieved that when we opened The Swan at Esher. When I do fancy a pint, I head for the Red Lion & Sun in Highgate and attack a pint (or two) of Estrella Damm.

When it comes to bars I love a negroni at the Shangri-La bar in The Shard. It's not just the spectacular location 31 stories above London Bridge. It would be easy for anyone opening a bar towards the top of one of Europe's tallest buildings to just take advantage, but the service and cocktails are impeccable, and the real joy is the total experience.
The best place for coffee has to be B Street Deli in Bermondsey Street, which is just a minute's walk from both my restaurant Pizarro and tapas bar José. They serve Volcano Coffee, which is produced in small batches by a bunch of Kiwis. When I've a problem or an opportunity and I need some peace and time to work things through, this is the place I go to. They also serve terrific casual food. Bermondsey Street is one of London's greatest food and drink oases. I'm so happy we chose it – years before it became cool – to open our two locations here.
For date night, you can't beat the Royal Academy of Arts. Apart from food, art is my lasting passion. While I collect mainly modern artists, I have a huge respect for the greats of the past. I adore both the RA building on Piccadilly and the works contained there. Being Spanish I recognise the dynamic 'golden triangle' of galleries in Madrid as the best, but the RA stands comparison with anywhere in the world. An evening gazing in awe at one of the exhibitions followed by a nightcap at The Poster Bar downstairs is my idea of the perfect place for a date with friends old and new.
Can anyone remember life before the rise of the gastropub? Miserable, cold food and warm wine. Now London pubs serve some of the greatest food in the capital without a lot of the fuss and bother of going to an upscale restaurant. My favourite is the Drapers Arms in Islington. Get one or two meat-loving friends together for a Sunday lunch and go for the forerib of beef and ask the waiter to recommend a huge red wine. Go by taxi – it's heaven, and some of the best meat you will ever eat.
The Wolseley is for me – like most chefs – a go-to for any meal of the week. But it's particularly great for breakfast. Corbin & King's genius is to create spaces that, while not cheap, offer incredible value for money in terms of the quality of ingredients, cooking, location, surroundings, service and ambience. The other intangible is that everyone wants to be invited to go there. That person you've always wanted to meet? Invite them to The Wolseley for brunch and they will cancel everything to be there. Simply the best.
If I'm getting a takeaway it has to be from Long Lane Fish Bar. In Spain we love our fish and our patatas fritas. We have nothing, however, to compare to an English chippie. For a start, malt vinegar is practically unknown in Spain yet a vital ingredient of a decent fish and chips. I've been going to Long Lane Fish Bar for years and have never had a bad takeaway. Lovely fresh fish is fried to order rather than fried to sit above the fat until it is sold. It's so good that sometimes you have to wait in a queue to get served. It's always worth the wait.
I love Bermondsey. When we arrived, 'south of the river' was a little bit unfashionable. How that has changed. Now Bermondsey has a little of everything: pubs, bars, restaurants, shops and even a designer glass factory. There's a pleasant, tolerant and relaxed vibe to the area.
Royalty and the rich have headed to Norfolk for generations. And it's easy to see why. The beautiful Gunton Arms pub, in a huge park, is quintessential Norfolk. A beautiful location, wonderful food influenced by Mark Hix, some of my favourite friends, and artists like Tracey Emin, Lucian Freud and Damien Hirst on the walls – everything combines to make this a long-term love affair and my favourite place for an out-of-London lunch.

My supermarket of choice is Waitrose. Maybe you do pay a little more to shop at Waitrose, but never confuse price with value. A huge range of quality fresh and packaged goods mean you can do most of your shopping in one place. Its sells new and traditional ingredients on the shelves, there's a huge selection of wines and spirits in-store and online, a reliable home delivery service and – most importantly – a lovely bar in the Canary Wharf branch where you can idle away an hour after shopping with the Sunday newspapers.

My favourite London deli is Fortnum & Mason. Sorry, it's such a cliché but it remains the best. It's quite a long way for me, but I always enjoy myself here – and I always find something I don't need but I really, really want.
The best room service is at the Hotel Mandarin Oriental Ritz in Madrid. The simplest thing to say about it is that you can order anything you want at any time of the day and it will be delicious and served with impeccable style in the utmost luxury. Chef Quique Dacosta produces some of the greatest food in Spain and you can have any of it in your suite. Maybe you have just sold your business or won the lottery? This is the place to celebrate without leaving your room.
My favourite place for a night out is The Ned. The City is not my natural playground, although we do have José Pizarro restaurant in Broadgate Circle which I love and has so many regulars. When The Ned opened, I was curious as it seemed such a bold concept. After having lots of great nights out there, I am in love. There are no fewer than eight separate bars, and restaurants have their own space under the old banking dome: great British food at Millie's Lounge or Ned's Feast; a taste of the West Coast at Malibu Kitchen; New York-style food at The Nickel Bar and The Electric Bar & Diner; Asian-Pacific dishes at Kaia; or there's the more traditional Lutyen's Grill. You can stay in one of them or, as I do, bar hop from place to place. It's noisy and a bit brash, and I think it's one of London's great nights out.
The views from The Shard really are the best. But Hutong would be worth a visit if it was in the basement. Based on the cuisine of northern China, there are both old favourites and surprises: expect wonderful food and glorious surroundings overlooking one of the world's most beautiful rivers.
For a culture hit, I love the Museum of Contemporary Art Helga de Alvear in my home town of Caceres. As a devoted collector of contemporary art, I often make a visit to this wonderful space. Major artists featured include Olafur Eliasson, Kandinsky, Picasso, Louise Bourgeois, Helena Almeida, Angela de la Cruz and Ai Weiwei, reflecting the wide-ranging passions of the museum's inspiration, Helga de Alvear, who donated over 2,500 pieces. I can spend most of a day here in silent wonder.
I don't work out, but I love to walk. Working in a kitchen as I do most days of my life is the best workout I know. The last thing I need is to get sweaty in a gym. I have my two lovely dogs – Conchi and Pie – who I adore and we walk together every day. In London we can walk over Tower Bridge and then along the Thames Path towards Canary Wharf, maybe returning on a Thames Clipper. When I'm in the country or near The Swan Inn, I start every day with a good long walk to wake up my mind and my body. At the weekend my partner Peter and I rejoice in a good ramble followed by a pint of beer at a lovely British pub.
Just before lockdown I decided to grow a beard for the first time in years. I curated it with the help of The Barbery in Southwark, a barber that suits me perfectly. Great haircut, great beard attention, no messing about, a sensible price – just what I want. In the last year, the beard has enjoyed a life of its own, sometimes quite long, sometimes short. It's sort of in the middle at the moment. Who knows, by the time you read this the moustache may also have developed its own personality.
My favourite London boutique has to be Paul Smith in Borough Market. When you find a designer whose clothes fit you and suit you, it's a good idea to stay with them. Paul Smith introduces a sense of style and humour into his clothes that I find very attractive. Wild scenes and colours on the linings that only you know are there behind a sober suit. An odd button on a jacket. Wonderful, unusual colours. And great quality. I rarely go to Borough Market without visiting Paul's store and I rarely leave empty handed.
As a very proud Spaniard I also love to support Massimo Dutti. Ignore the Italian name – it is entirely a Spanish company. There are several stockists in London, but I tend to go to the Regent Street store where they know me and have my measurements. They choose wonderful cloth and, like Paul Smith, the clothes just feel right on me.
I'm a collector and a lover of beauty in many forms. But I don't have time in my busy working life to visit sale rooms, art galleries and furniture stores, however much I would like to. Maybe when I retire. Online vintage emporium 1st Dibs does the hard work for me. Its sellers have impeccable taste and a wide selection of the things I love. Even if there is nothing I want, an hour spent online is an hour to cherish.
When I discovered Selfridges, it felt like a little bit of heaven had opened. So many things! They say that the best presents are things you would like to be given, so I buy things I love for myself and give them away.

When it comes to staycations, I love Cornwall. Some people say the Cornish can be unfriendly but that is not my experience. Maybe it is how visitors behave when they go there. It seems to me that the further you get along the south coast from London, the nicer the experience and Falmouth is my favourite part of the county. There are lovely privately owned hotels like Merchants Manor where chef Hylton Espey creates magic from local ingredients, and there are wonderful fishing trips available from the ancient harbour. On the other coast, so many chefs have made Padstow their home that it's a foodie's nirvana.

My ultimate city break is Jerez in Andalusia. It's the home of three of my favourite things: sherry, Andalusian horses and flamenco. I love sherry so much that two years ago I joined up with Moser Crystal to design a new, larger and more open drinking vessel which I now use in my private dining spaces – it's very expensive. As this is Andalusia, everything equestrian dominates much of the city life. Take a tour of the Royal Andalusian School of Equestrian Art to watch the world-famous "dancing horses" perform their magnificent routines. Like most Spanish cities the best thing to do is grab a bottle of water – it is very hot there in the summer – and walk. Stop at the many small bars when you are bored of the water! Maybe find a large screen, watch flamenco legend Joaquin Cortes preview his new routine while sipping a cold, bone-dry fino sherry. Heaven. Stay in a boutique hotel rather than luxury to get the real feel of the city.

I can't wait for a long-haul holiday. Growing up in the countryside near to the Portuguese border with Spain I'm attracted to the frantic energy of Thailand. It's a country of extraordinary contrasts. The clamour and noise, not to mention the traffic and pollution, of Bangkok contrast with the beauty of the countryside and the wonderful beaches.