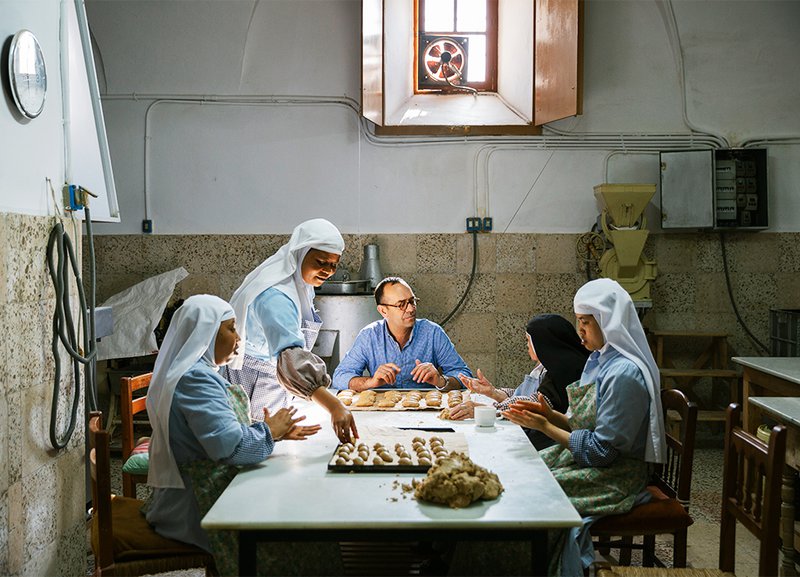 In a cool, marble-floored convent in Ronda, Andalusia, a cluster of nuns in floury habits are rolling sugary almond dough into cocktail-sausage-sized sweets. They've made 20 trays of 35 today, but 700 represents only a fraction of the 1,000kg they need to make by Christmas, when people will come from all over Spain to buy bags of them.
The uncannily holy-looking light shining through a high window onto the rolling table in front of them suggests they might be getting some divine help. There's no rest for the wicked, but there's no rest for the pure either. This convent of Franciscan nuns – also known as the Order of the Barefoot Franciscans – has been making "sweeties", as they cutely call them, for centuries in this small, cobbled Spanish town, which is also famous for its majestic views down the hillside.
Until very recently, they did so behind closed doors. The sweet-toothed might have travelled miles to buy them, but they had to wait outside when they arrived. At the door, visitors are met by a menu of artisan sweets and a wooden-shuttered hatch that swings open to reveal something like a confessional lazy susan, with the sweets and payment swinging round one after the other.
Next to the menu is a blessing: Concede a quien llega tu alegria, a quien mora tu Paz, a quien sale tu Bendicion ('Grant to those coming through this door your joy, those dwelling your peace, and those departing your blessing'). Yet while the nuns wish for your joy and peace, they haven't wished to share the secrets of their sweet-making until now, when this particular convent has finally opened its doors, a bit like Willy Wonka's chocolate factory to those with a golden ticket. But so far only one man has been inside and he isn't Charlie Bucket.
José Pizarro, London's most popular Spanish chef, found the convent last year and wrote asking for special permission to visit. "I knew that nuns made the best sweets in Spain, because they have been refining the recipes for centuries," he says. "But I didn't realise, at first, how secret the whole process is – I was rejected by seven other convents before I found this order. I have huge respect for them because, with fewer nuns in Spain, authentic sweet-making is a dying art and they want to keep the recipes alive. You can't get anything that's even close to the traditional best in the UK and the Spanish factory versions aren't good, either."
After flying to Malaga, we pick up a car and drive up through dry hills and olive groves to Ronda, which is around an hour and a half away (it's also less than two hours from Seville). In the barrio de San Francisco we ring a bell outside a tall, green-and-black gate and are buzzed rather modernly (given the convent has stood here since 1664) into a small, pink-tiled square that smells gorgeously of honeysuckle. Across from the plants that grow at the gate is the entrance to the nuns' private quarters. Stepping inside when you know the public haven't been allowed in for hundreds of years feels like an extraordinary privilege.
Pizarro's been given special permission to bring me inside, but anyone can come into the square to buy sweets, visit the chapel (the nuns sit opposite the normal congregation in a fenced-off area like exotic birds) and, for the first time, stay within the convent's walls in a new five-person apartment. "Nuns are in decline," Nieves, the 74-year-old mother superior, tells me, looking over the top of slim oval glasses, "so modern nuns are entrepreneurial nuns." The accommodation is first come, first served, and around €50 a head, but it's perhaps the closest you'll get to staying at an Airbnb run by nuns, who are delighted by the new faces when we arrive.
"Are you married? Do you have a boyfriend?" they ask, when they see me. They can't believe how blonde I am, given their hair is always covered by their habit and usually dark anyway, and I can't believe how small they are, with the head of the oldest, a 4ft 89-year-old called Natividad, coming up to my hip. She's been living here for almost 70 years and knows how much it's changed. There were 18 nuns here when she joined aged 21 in 1950 and now there are seven. "There are fewer believers now; fewer people want this lifestyle," she says.
She wasn't sure at first herself. "When I was young I didn't know what to do with my life," she says. "I asked myself whether I wanted to be married, whether I wanted a house and children, but I felt the words of the church were getting into me. I heard God and decided that I should become a nun. My mother wasn't happy as my sister was a nun, too, and she thought one in the family was more than enough, but she came round in the end."
She wrote to the order and was invited to visit, then to stay to see if she 'fitted'. "A sort of trial," she says, that still exists today. Any woman in the world could write and ask to join them; "We're a very small order, though," the mother superior adds, presumably worried there might suddenly be a long queue outside the gates.
The two newest, and youngest, nuns, Patrocinio, 22, and Loreto, 23, both arrived from Madagascar last year and passed. They're waiting to be upgraded to the proper uniform the older nuns wear and won't be allowed to wear a wedding ring (and become married to God) for five years. Natividad and Nieves hold their left hands up like Beyoncé to show me theirs.
The lifestyle certainly wouldn't suit everyone. They wake at 6.30am and are at church by 7am for half an hour of prayer. Then there's a simple breakfast of coffee, milk and toast, only after which they start speaking – the whole morning and all mealtimes take place in silence. That must be the hardest part for newcomers; I don't know anyone who's been on a silent retreat and not cried non-stop all week.
Then they carry out their different duties – preparing dinner, making sweets, sewing alterations on clothes for people in the town – before a bell chimes for prayer at 12.45pm. It rings again at 3.30pm, 4.15pm and 6.30pm. By 9.50pm they're in silence again. Checking up on God five times a day seems a lot and I wonder if they run out of things to say. "We always ask the same thing," Natividad says. "We ask God to help everyone in the world who needs him" (so no biggie). That means that since she's joined the convent she's prayed more than 123,760 times for world peace. "We believe the world would be a very different place if everyone was truly kind to each other," she adds.
"Outside, lots of people don't have time to pray, so we pray for them," Marcelina, a 34-year-old from Tanzania, tells me. They realise that their life is fascinating to the 'outside', especially because so much of it takes place in seclusion. "I think people wonder what we do in here," Natividad admits, "and they want to know how we make the sweets – that's very secret. I wasn't allowed to see how they were made when I first came here. I come from Andalusia, where they are traditionally made and I think the nuns here at first thought I was a spy. I was only allowed to help make them after I joined the convent, then I became the head sweetie-maker immediately because they knew I'd been making them for years." 
The sweets include mantecaos and polvorones – Spanish shortbreads also called crumble cakes, because of their very soft texture. They are the shape and style of baklava, without the syrup, but just as sweet, and made of sugar, flour, milk and nuts (and sometimes pork fat), which is churned into a squidgy dough, rolled into small pieces and baked. But they're never eaten hot – that's a trick the factories use to stop their new employees scoffing too many sweets, they say.
"They're allowed to eat as many as they want on the first day when they're fresh from the oven and after they never want to eat one again," says Maria, a 38-year-old Kenyan (pictured, page 41), with a chuckle. They must have eaten hundreds over the years themselves, but widen their eyes when I ask how many. "I love them too much to even try counting," says Natividad. Maria looks guilty. "Muchos," she says.
What do they think about Pizarro coming to steal their secrets? Maria waits while our translator wonders how best to ask, then smiles. "I think we've made a new friend," she says. "I have huge respect for the nuns," the chef smiles. "Men aren't allowed in here, obviously, and I didn't know if I should not touch them in any way – shake their hands or kiss their cheeks – but they pulled me straight into a huge hug."
According to José, the secret of these sweeties' flavour has little to do with ingredients, and everything to do with time and tradition. "They've perfected the recipe," he says. "It's the love they put into everything that makes the simplest sweets so special. The nuns are so good and so selfless. I think they are amazing."
The good news for Londoners is that Pizarro is bringing their recipes to his Bermondsey restaurants, José and Pizarro, and is also using Tanqueray's new Flor de Sevilla gin to give a kick of Seville orange to their traditional desserts. But he's having to use slightly different methods of making them. "Many of the machines they use to cook with in the convent are so old they're practically antiques," he laughs. Meaning the recipe might travel the world, but the real thing is still only available in Ronda.