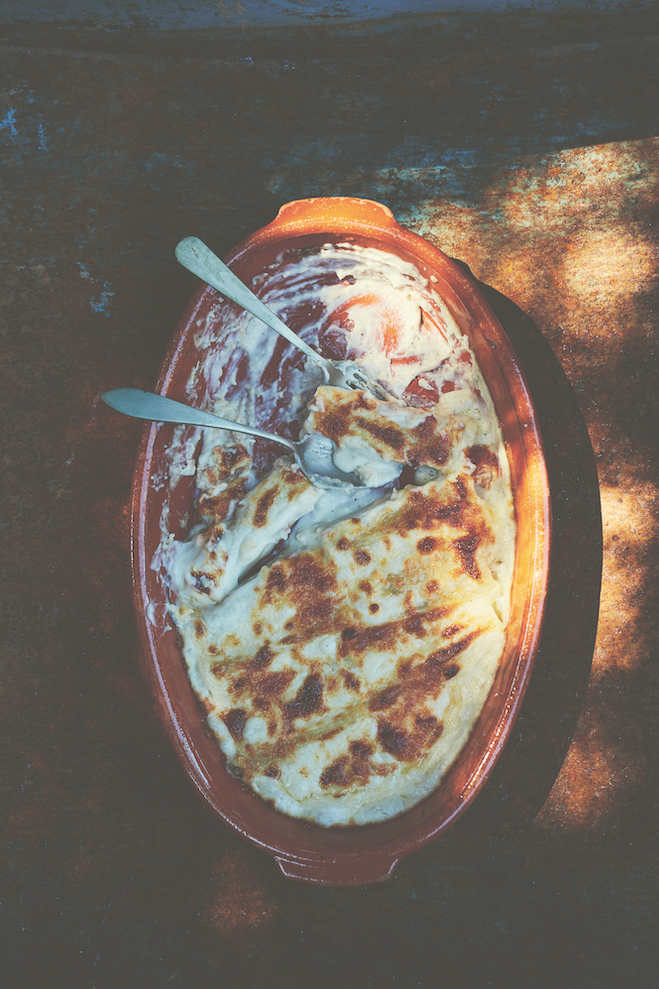 Ingredients:
Olive oil for frying
200 g (7 oz) chicken breast, cut into pieces
150 g (5 oz) minced (ground) beef
150 g (5 oz) smoked lardons
100 g (31⁄2 oz) white butifarra sausage, finely chopped
100 g (31⁄2 oz) foie gras or chicken livers, cut into cubes
2 small onions, finely chopped
1 bay leaf
sea salt and freshly ground black pepper
350 ml (12 fl oz) double (thick) cream
50 ml (2 fl oz) dry sherry
10–12 fresh cannelloni or thin lasagne sheets
60 g (2 oz) grated Serrat (a mature cow's milk cheese from the Catalan Pyrenees) or any mature, hard manchego cheese
For the béchamel sauce
1.7 litres (3 pints) fresh chicken stock 80 g (3 oz) unsalted butter
80 g (3 oz/2⁄3 cup) plain
(all-purpose) flour
250 ml (8 fl oz) single (light) cream pinch of nutmeg
Method:
Heat a layer of oil in a heavy-based pan and brown the meat (except for the foie gras) all over in batches, transferring to a bowl once browned.
Turn down the heat, add the onions to the pan and cook slowly until transparent. Stir in the bay leaf and plenty of seasoning then add the flour. Cook for 1–2 minutes.
Add the foie gras and return the browned meat to the pan. Pour in the cream and cook to reduce for around 10 minutes. Add the sherry and cook for 2 minutes. Remove from the heat.
Mince everything in a food processor until you get a stuffing with a uniform texture. Place in a large piping bag and set aside.
To make the sauce, bring the stock to a simmer and keep it warm. Heat a heavy-based pan and melt the butter. Stir in the flour, mix well and cook for 1–2 minutes. Add the stock, little by little, stirring constantly. When smooth, add the cream, nutmeg and plenty of seasoning and simmer until lovely and thick. Set aside.
Preheat the grill (broiler) to medium high.
Place the pasta sheets on a board, pipe a good line of stuffing down the centre of each then roll up the pasta to form cannelloni. You want a double layer of pasta, so if your sheets are too large, cut them to the right size with a sharp knife.
Spread a layer of béchamel in the bottom of an ovenproof dish and place the cannelloni on top, next to each other. Cover with the remaining béchamel and scatter with the grated cheese.
Place under the grill for around 10 minutes until golden brown and bubbling. Serve immediately.
Ref: Catalonia by José Pizarro (Hardie Grant) | Photography: Laura Edwards.