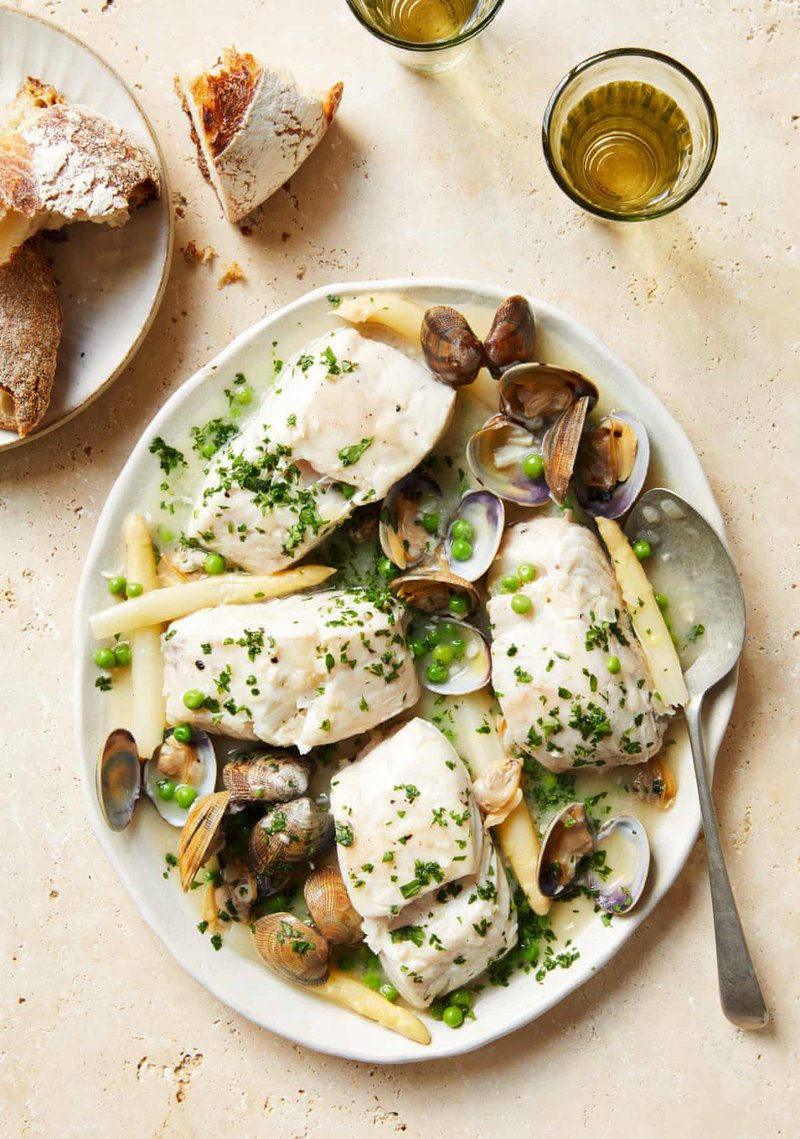 Prep 15 min
Cook 20 min
Serves 4
3 tbsp olive oil
3 garlic cloves, peeled and finely chopped
1 small shallot, peeled and finely chopped
1 tbsp plain flour
200ml txakoli (a slightly sparkling Basque white wine), or dry white wine
150ml fresh fish stock
Sea salt and black pepper
4 × 180g hake fillets
200g frozen (or fresh) peas
200g live clams, cleaned
8 spears jarred white asparagus (when in season, use fresh and blanch until al dente), optional
1 small handful finely chopped parsley
Crusty bread, to serve
In a large frying pan for which you have a lid, heat the oil on a medium heat, then fry the garlic and shallot for three or four minutes, until lightly golden. Add the flour, cook, stirring, for about two minutes, then slowly stir in the wine and cook for another two minutes. Pour in the stock bit by bit, stirring well between each addition, until you have a smooth, silky sauce.
Season the hake, lay it in the sauce and leave to cook for four or five minutes. Add the peas and clams, cover the pan and leave for two or three minutes, until the clams open (discard any that do not). To finish, add the asparagus and parsley, simmer for a minute, just to warm through, then season to taste and serve with crusty bread.
José Pizarro's hake in salsa verde. Photograph: Ola O Smit/The Guardian. Food stylist: Esther Clark. Prop stylist: Anna Wilkins. Food assistant: Troy Willis.