Pumpkin, aubergine and pepper stew.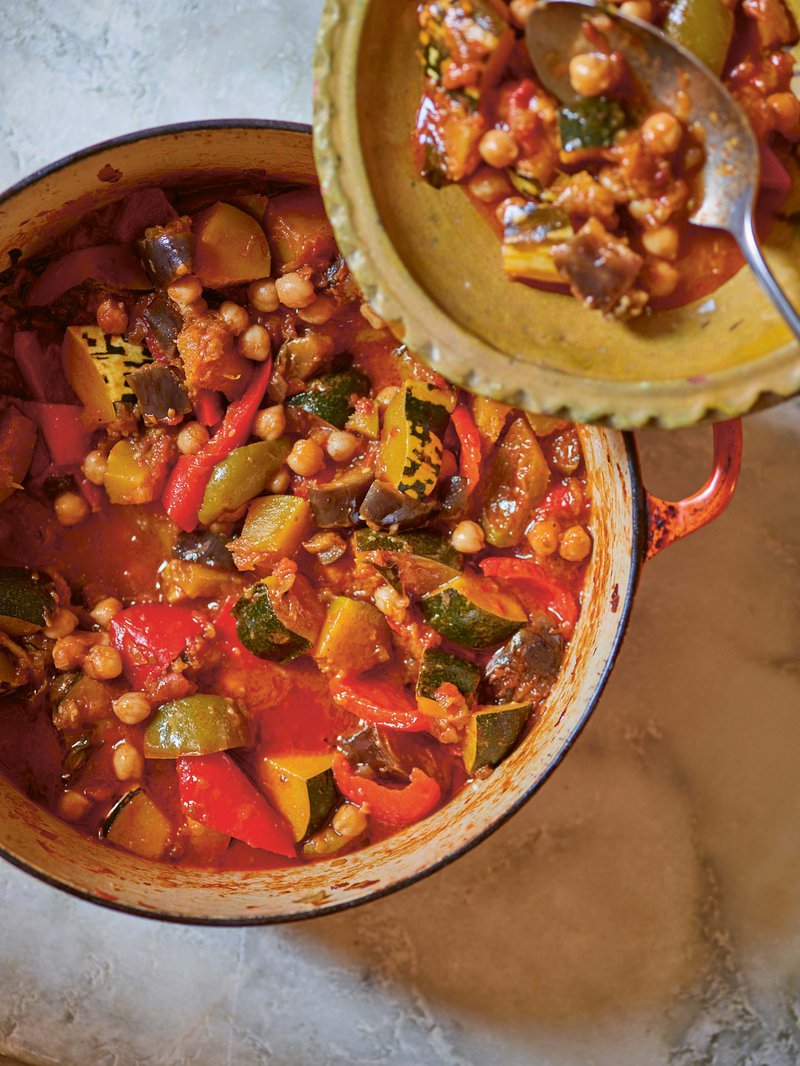 Ingredients
4 tablespoons olive oil
1 large onion, finely chopped
2 garlic cloves, grated
1 large aubergine (eggplant),chopped.
½ teaspoon dried chilli (hot pepper) flakes
½ teaspoon bittersweet pimentón de la Vera
3 marjoram or oregano sprigs
1 green (bell) pepper, chopped
2 red (bell) peppers, chopped
800 g (1 lb 12 oz) peeled and chopped pumpkin or squash
400 g (14 oz) tin chopped tomatoes
400 ml (13 fl oz/generous 1½ cups) vegetable stock
1 bay leaf
400 g (14 oz) tin chickpeas (garbanzos), drained and rinsed
2 teaspoons sherry vinegar Extra Virgin olive oil, for drizzling
large handful of flat-leaf
parsley, stalks and leaves chopped
sea salt and freshly ground black pepper
Method
Heat the oil in a large casserole dish (Dutch oven) or sauté pan over a low heat. Add the onion, garlic and aubergine (eggplant) and gently fry for 15 minutes. Add the chilli (hot pepper) flakes, pimentón and marjoram or oregano and fry for a minute more, then add the peppers and pumpkin.
Increase the heat a little and cook for another 10 minutes. Add the tomatoes, stock, bay leaf and parsley stalks.
Season well and reduce the heat to low. Simmer for 40 minutes until the veggies are very tender and have formed a lovely thick stew.
Add the chickpeas (garbanzos) and vinegar and bubble for 10 minutes or so, then serve with a drizzle of Extra Virgin olive oil and a scattering of chopped parsley leaves.
Spanish Home Kitchen | Picture: Emma Lee