Raw pumpkin salad with candied chestnuts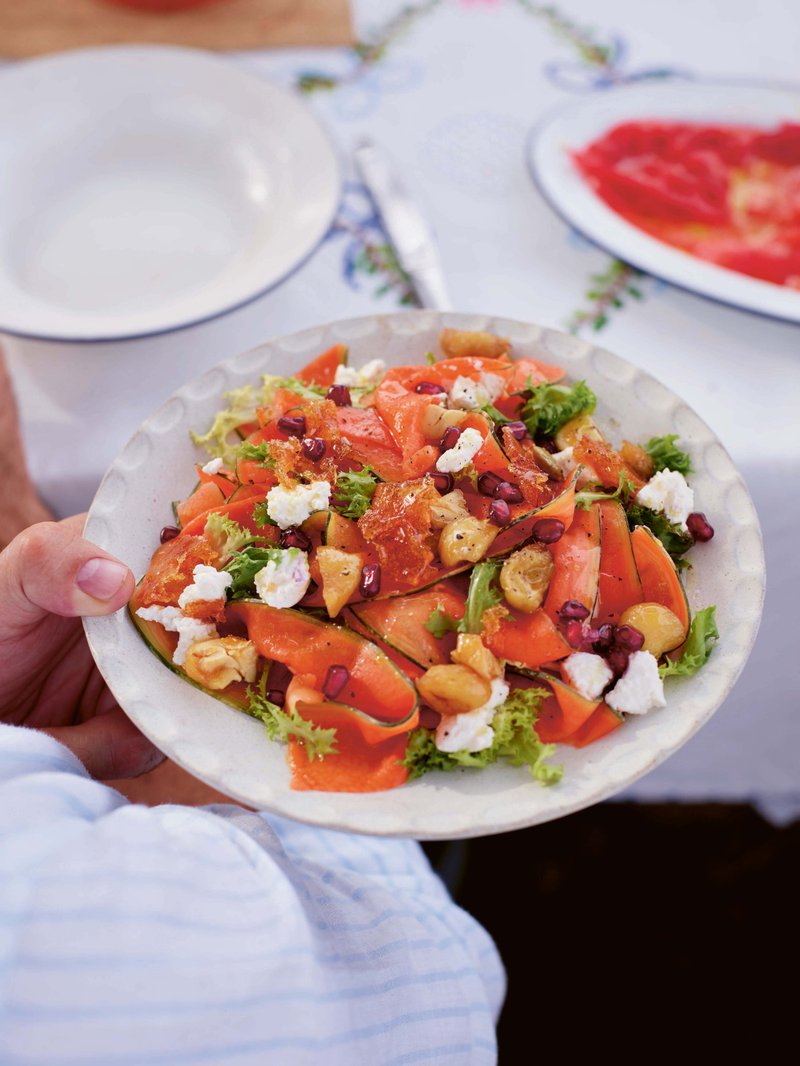 INGREDIENTS:
CANDIED CHESTNUTS
olive oil, for greasing 100 g (3½ oz/scant ½ cup)
caster (superine) sugar 2 tablespoons water
150 g (5 oz) Fire-roasted Chestnuts (page 46), peeled and quartered
SALAD
½ large Delica pumpkin, thinly sliced using a mandolin or vegetable peeler
120 ml (4 fl oz/½ cup) apple cider vinegar
50 ml (1¾ fl oz/3 tablespoons) water
50 g (2 oz/scant ¼ cup) caster (superfine) sugar
1 teaspoon fennel seeds
3 tablespoons extra virgin olive oil
¼ frisée lettuce, leaves separated
100 g (3½ oz) curd cheese
crumbled seeds of 1 pomegranate
sea salt and freshly ground black pepper
METHOD:
Begin by preparing the candied chestnuts. Grease a baking tray with olive oil, then put the sugar and water into a small saucepan over a low heat. Heat gently until all the sugar has dissolved; this will take around 5 minutes. Now increase the heat to medium and cook until you have golden/amber coloured caramel, swirling the pan from time to time to stop it from catching. Add the chestnuts and stir to coat, then pour this mixture on to the baking tray. Allow to cool.
Place the pumpkin slices in a bowl. Put the apple cider vinegar, water, sugar and fennel seeds into a small clean saucepan over a low heat. Heat for 5 minutes until the sugar has dissolved and the mixture comes to a boil. Bubble for a minute or two, then pour the mixture over the prepared pumpkin and leave for 45 minutes.
Taste the pumpkin to test it is sharp enough for your liking: it should have a good bite. Strain the pumpkin, reserving the pickling liquor. In a small jug (pitcher) or bowl, whisk 100 ml (3½ fl oz/scant ½ cup) of the pickle liquid with the extra virgin olive oil to make a dressing. Season to taste.
In a large salad bowl, toss together the lettuce leaves and marinated pumpkin, then scatter the cheese over top. Break apart the candied chestnuts and scatter over the top, along with the pomegranate seeds. Drizzle with the dressing and finish with a good sprinkle of freshly ground black pepper.
Publisher: Hardie Grant
Photography: Emma Lee
Spanish Home Kitchen recipe book | Order now