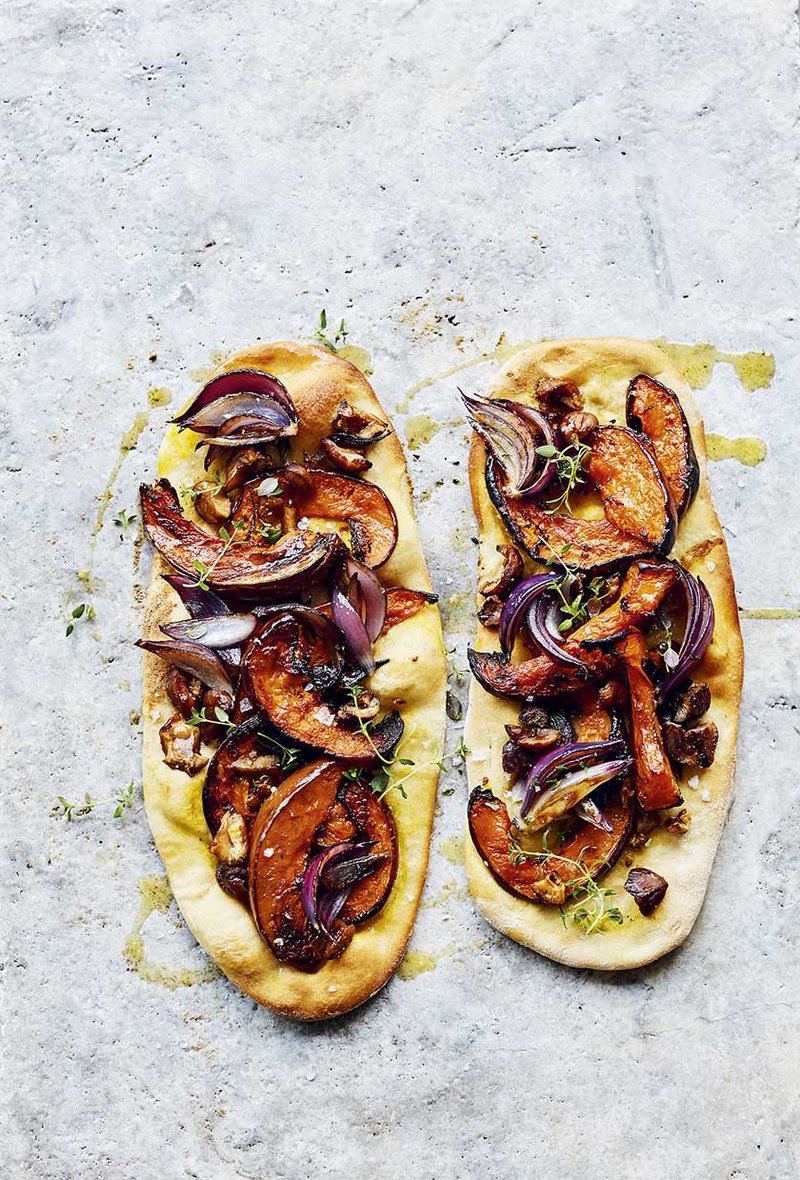 Ingredients
12g fresh yeast (or 7g sachet fast-action dried yeast)
330ml lukewarm water
pinch sugar
500g plain flour, plus extra for dusting
1tbsp extra virgin olive oil
fine polenta, for dusting
For the topping
1 small, firm pumpkin, cut into small wedges
2 red onions, cut into wedges
olive oil, for drizzling and brushing
few sprigs thyme (or sage)
150g chestnuts
Method
Cream the yeast in a bowl with a little of the water and the sugar. When smooth, add three-quarters of the remaining water and leave to stand, covered, for 30 minutes until the mixture starts to bubble.
Sift the flour and 10g fine sea salt into the bowl of a stand mixer. Add the yeast water and olive oil and knead with the dough hook for 5 minutes on a low speed, adding more of the water if the mixture looks a little dry.
Leave to stand for 10 minutes then knead the dough again for 5 minutes until it is smooth and elastic. Cover and stand for 1 hour, or until doubled in size.
Meanwhile, heat the oven to 200C/400F/Gas 6. Put the pumpkin and onions into a roasting tin, drizzle with oil and season with salt and the thyme or sage leaves. Roast for 30 minutes until starting to become golden and tender. Remove from the oven.
Divide the dough into six equal portions, then roll out on a lightly floured surface into 30cm tongue-like shapes. Sprinkle two baking trays with a little polenta, place the dough pieces on top, cover with a clean tea towel and leave to stand in a warm place for 15 minutes.
Heat the oven as high as it will go. Brush the dough bases lightly with olive oil and sprinkle with sea salt. Crumble the chestnuts and toss with the pumpkin and onions and divide among the breads, leaving a 2cm border around the edge. Bake for 10-12 minutes, or until the bases are golden and crisp. Serve the coca immediately.
Publisher: Hardie Grant
Photography: Laura Edwards
Recipe from: Catalonia, Recipes from Barcelona and beyond