Walnut, sherry & honey semifreddo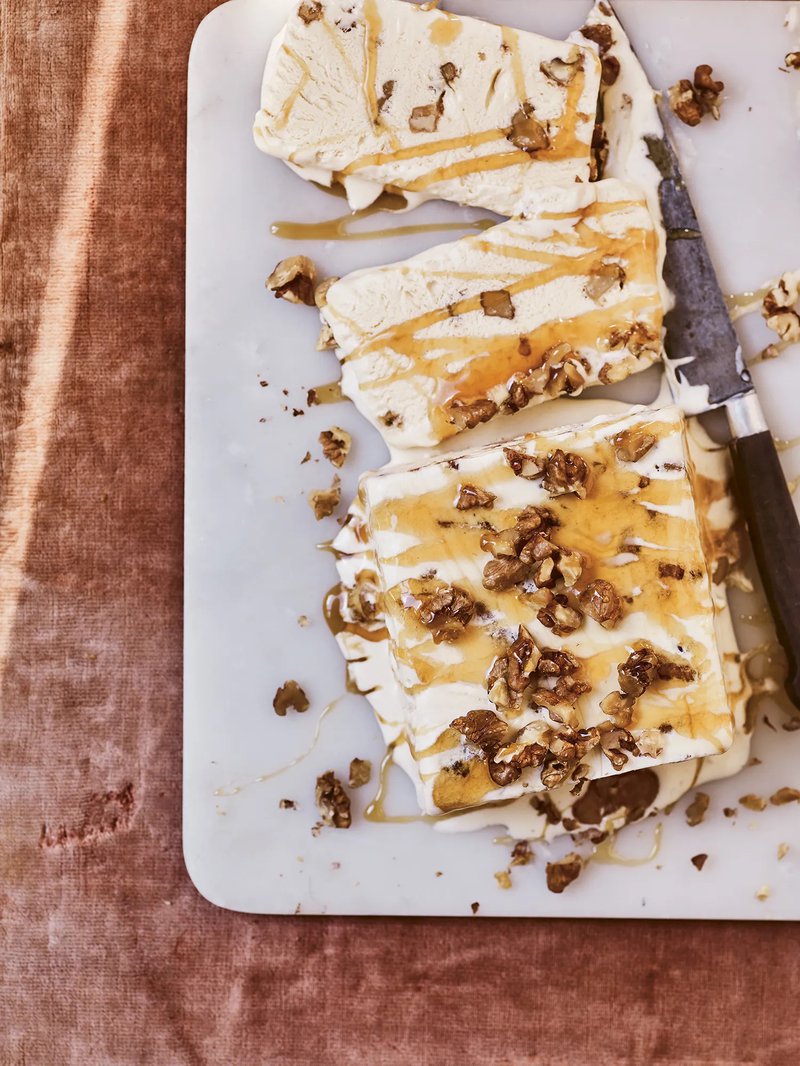 INGREDIENTSolive oil, for greasing4 medium free-range eggs, separated1½ tablespoons Pedro Ximénezsherry100 g (3½ oz/½ cup) caster (superfine) sugar325 ml (11 fl oz/generous 1¼ cups) double (heavy) cream85 g (3 oz) walnut halves, plus a handful to serve1 tablespoon dark honey, plus extra for drizzling
METHOD
Step 1
Grease a 450 g (1 lb) loaf tin with olive oil and line with enough cling film (plastic wrap) that it hangs over the sides.
Step 2
Place the egg yolks, sherry and sugar into a small bowl. Tip the egg whites into a separate large, clean and dry bowl and pour the cream into another large bowl.
Step 3
In a small frying pan over a medium heat, toast the walnuts until lightly browned, then remove from the heat and crush lightly with the end of a rolling pin while still in the pan. Stir through the honey; it will fizz a little, but make sure it coats the walnuts well.
Step 4
Beat the egg whites to stiff peaks with an electric whisk. With the same whisk, beat the egg yolk mixture until thick and forming a ribbon trail. Then, again with the same whisk, whip the cream to soft peaks.
Step 5
With a large metal spoon, fold the cream into the egg yolk mixture, then gently fold in the egg whites until combined.
Step 6
Stir through the honeyed walnuts and spoon into the lined loaf tin, right to the top of the tin. Loosely lay a sheet of cling film over the top and then cover with a sheet of foil.
Step 7
Place in the freezer for a minimum of 5 hours before serving; it will keep in the freezer for up to 3 months.
Step 8
To serve, toast a handful of walnut halves in a small frying pan over a medium heat and allow to cool a little. Turn out the semifreddo, peeling back the cling film and lift onto a board or platter. Top with toasted walnut halves and a good drizzle of dark honey.
Publisher: Hardie Grant
Photography: Emma Lee
Andalusia recipe book | Order now